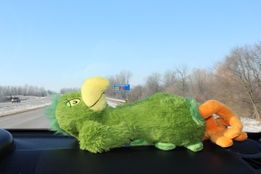 The trip down was fairly uneventful. We got caught in traffic (caused by pothole repairs) in Tennessee, and made it through a weekend rush hour, in Atlanta. Other than that, roads were clear and traffic was sparse.
 Others weren't so fortunate. We had reports from riders, crew members, and race fans... some of whom were stuck in Kentucky or Tennessee for 14-26 HOURS, due to bad road conditions.
The National Guard was out there, on Highways 64 and 65, passing out bottled water. Some of these folks reached the track a day later than we did, even though they had LEFT a day EARLIER. Crazy dedication...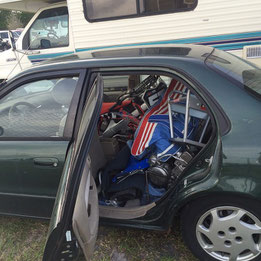 Speaking of "crazy dedication..." how about THIS?
  Folks are going wild over how Michigan rider Justin Thomas hauled HIS bike and gear to the races. When his plans fell through, regarding transportation, he found his OWN way to get the 2100+ miles he needed to travel, in order to race.
  How is THAT, for dedication?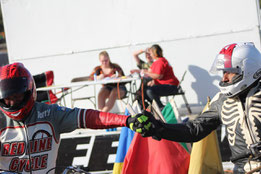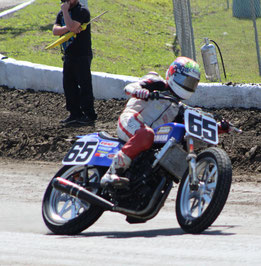 It was also pretty neat to get this "not-so-sneak" peek at some of this year's GNC competitors, on the rides we've all been discussing behind our keyboards.
  For instance, Cory Texter looked great...possibly better than I've ever seen him... on the Babe Demay Yamaha!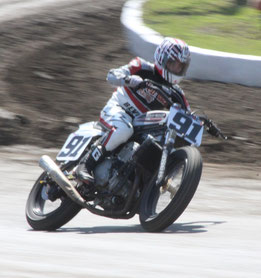 Let's not forget Mikey Martin, who was rocking it out on his Weirbach ride.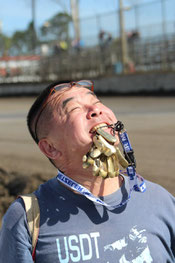 Nakao Shogo made the trip in, from Japan... it's always nice to see both his smiling face and his awesome pictures!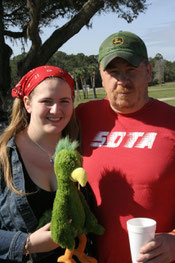 The next morning, we were back at the Volusia half mile for another full day of Amateur/Vintage racing. Rider turnout was fantastic, and the program ran smoothly. 
  This was probably our busiest day of the week. No, scratch that. This was DEFINITELY our busiest day of the week. 
  It wasn't until we got back to the motel (around 12:30 AM... we stayed about an hour, from the track) that I realized... I'd forgotten to eat!
  Addictions do funny things to people... especially flat track addiction!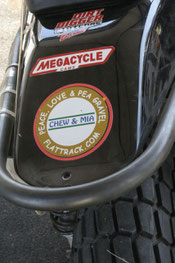 It's the most rewarding addiction ever, though. From seeing riders bounce back from earlier injuries to seeing the grins on riders who are entering their first race... from watching a kid you've known since his PW50 days win his first GNC event to seeing your name on the bike of David Aldana... from visiting with longtime friends to making new ones... these are the events that have it all.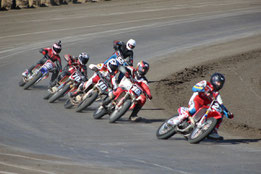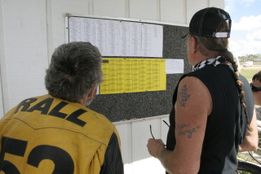 We were back in Volusia on Tuesday morning... THIS time for Amateur/Vintage short track action!
  The day brought another great rider turnout, and an AWESOME crowd of spectators!
  We stayed super busy on this day, too... and were well-rewarded by all of the exciting action of the day... and a few surprises!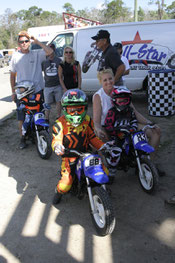 For instance... check out this Young Gun, Bradon Pfanders (#88). After his race, we saw him stop at the pit gates. Was he broken down? Stalled? Unsure where to go?
  Nope.
  He was being a good big brother, and waiting for his little sister (Gabrielle Pfanders, #83). This was her first race, so Big Brother was waiting to make sure she got back to the pits okay.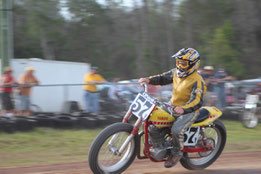 Seriously, I hadn't anticipated being able to witness a race full of fast guys like Ronnie Rall and Dave Aldana, but that's exactly what happened in the 60+ Vintage Open!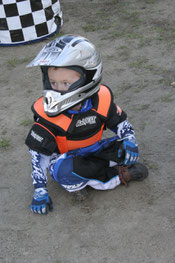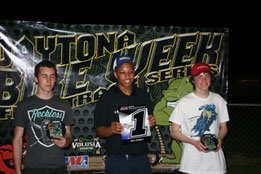 We stayed, afterwards, to congratulate the awards recipients in the Bike Week Championships. The plaques were awesome, but the smiles were even better. Bonus: many of the award-winners in selected Youth classes walked away with new Body Armor!!
  You can view all of the awards pics in our "Our Pics:2015" album.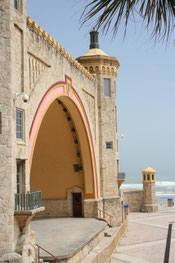 With no racing scheduled for Wednesday, we were off to the beach, for the annual gathering at the Daytona 200 Memorial.
  The Memorial is located next to this stage, called the Bandshell. 
  A lot of fans are unaware that this Bandshell is where the ORIGINAL Daytona 200 racers stood, to draw their starting positions from a helmet.
 The Memorial is the project of 3-time Daytona Winner, Dick Klamfoth. He and his wife, Bev, pour their hearts into this monument, meant to commemorate those who play a significant role in the motorcycle and racing community.
  Even following the complete loss of their homes and belongings in a housefire, just before Christmas... and an unfortunate accident, right afterwards, that left Dick with a reported skull fracture, they were there with smiles to greet us at the gathering.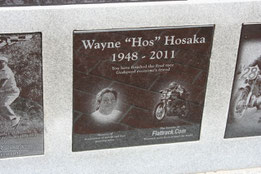 The walls surrounding the main monument are covered with marble plaques... like this one, honoring the founder of Flattrack.com, Wayne Hosaka.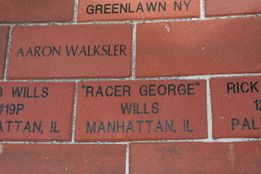 Brick pavers pay thanks to those who have made a donation of $50 or more, for the site's upkeep and maintenance. This year, we bought one. I can't wait to get pictures of it when we return, next year!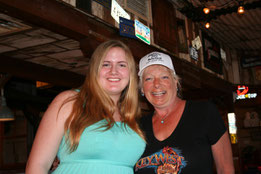 We followed up with a delightful lunch at Bubba Gump's with our dear friend, Patricia Camplan. Flagman Extraordinaire, Kevin Clark, and our racing buddy Dalton Brisbois were kind enough to join us. We had a blast.
  You can see more pics from our "day at the beach" in the "Our Pics:2015" album!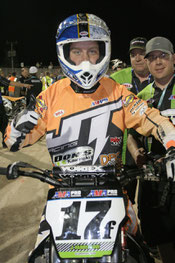 We were up and at 'em early, on Thursday... it was time for Round 1 of the AMA Pro flat track circuit... Daytona!
  Longtime buddy (and fast local guy) Jarod Vanderkooi competed in his first race with a GNC1 license... and lost his letter, on the first attempt!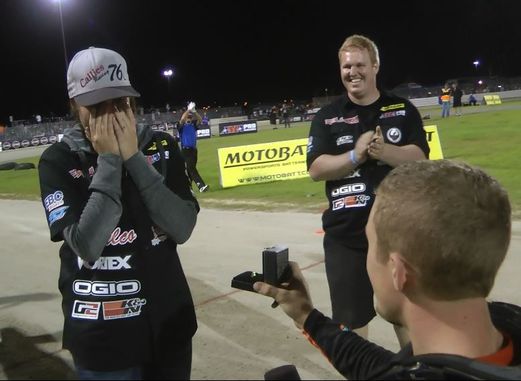 And how about that surprise that Gerit Callies had, for his lady love, during the Rider's Parade?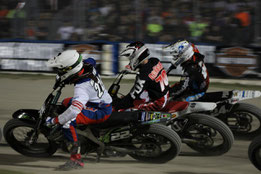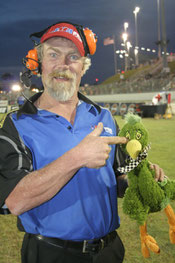 Our final day, at the second Round of the GNC races at Daytona, came too soon.
  We had been so busy, congratulating friends on their first races in either the GNC1 or GNC2 classes... Tristan Avery, Sam Slingerland, Dalton Gauthier, Jarod Vanderkooi, Hunter Edwards, and others were "repping" their new credentials with style.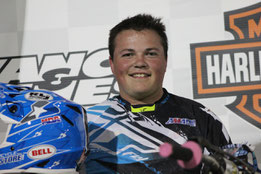 From the "Iron Man" files... how about Justin Jones, #19B (GNC2)? He had a bad get-off early on day 1... still came out and rode his best, even though he could barely walk on his right leg.
  The next day, still aching, he not only rode his best... he won his Heat and got his first GNC2 win!
  We've been Justin's fans for years... now, he's showing others the reason why!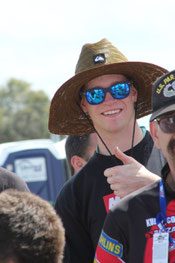 Speaking of Iron Men... how about Dan Bromley? He broke his collarbone during a practice session, at a rented track, this week... and decided he felt confidant enough to try riding.
  The Bromley boys NEVER cease to amaze us.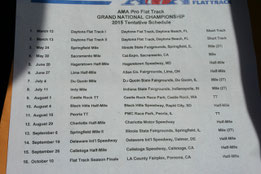 The big buzz, around the track... two more races, tentatively added to the schedule! Yesterday, a press release was issued which confirmed the race in Delaware. We're just waiting on the official "go" for the Charlotte addition, now!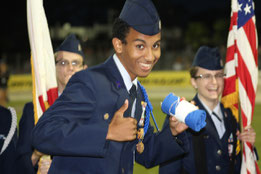 Of course, some people had other reasons to be excited. This young man, from the Color Guard, couldn't have been happier than when he got a t-shirt from the t-shirt cannon!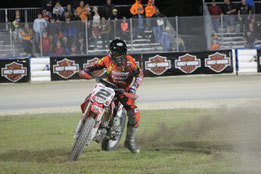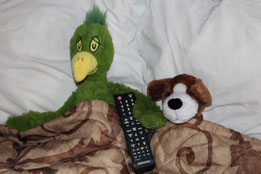 One last sleepless night in the motel (who has time to sleep, when there are pictures to edit???), and we were heading back to Chewville.
  What a great week!!!