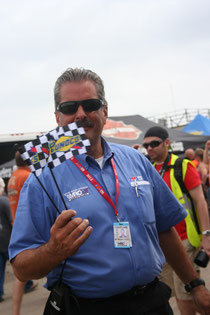 So, you are planning a trip to Springfield?
  Congratulations! You are about to embark on a voyage to the flat track mecca land. Ask any leftclanker who has ever made the pilgrammage, and they are bound to agree... Springfield is an experience like no other.
  Once upon a time, in the early years of the GNC (1946-1953), the entire Championship fell to the rider who was able to win at this track. A mile long, and unbelievably fast, this track holds more history than any one blog post can contain. 
 If watching the bikes form a "freight train" as they rumble out of turn four... or seeing the "Mile Tuck," where the riders rest their chins to the tank and clutch the forks, to increase their wind resistance and speed... aren't exciting enough, the IMDA throws in live bands (this year, they will be featuring a performance by Beau Braswell), a vintage bike show, and lots of concession stands and vendor's booths in front of the Grandstand entrance. Highly recommended "track favorite" foods include the porkchop sandwich and the original corndog.
  When you come to the infield, for Open Pits, you don't come ACROSS the track as you do at most venues. You walk through a long tunnel that runs BENEATH the track. As you emerge on the infield side, notice the "graffiti" on the walls. Celebrities and performers who have performed at the Fairgrounds, throughout the years, have scrolled their names upon the white walls.
  The Mile is always scheduled twice a year... on Sundays, the days before Memorial and Labor Day. Don't wait until May 25 to show up, though... there is plenty of other action, over the weekend!
  On Friday, May 23, Steve Nace and crew will be holding an All Star race at the short track in Peoria, IL (3520 W. Farmington Rd., Peoria, IL 61604). Just about an hour North of Springfield, this is definitely worth the stopover. Gates open at 4:00 pm, registration runs from then until the beginning of Practice (at 6:00 pm), and the racing is set to begin at 7:30 pm. Pit passes are $25 (5 and under are free). Please contact the website for prices for Grandstand seating.
  Also on Friday, the AMA Flat Track Rookie Class of '79 and Friends will be holding their annual charity golf tournament. Held at the Bunn Park Golf Course (2500 South 11th St., Springfield, IL 62703), participants can be teamed up with some of their favorite racers of today and yesterday, for an entry fee of $100. Sign-up begins at 11:00 am, with the tournament scheduled to begin at noon. Afterwards, there will be a celebration at Boone's Saloon (301 W Edwards St, Springfield, IL 62704) with dinner, awards, and live entertainment by Beau Braswell.
  Plan on spending the WHOLE DAY, on Saturday, enjoying the TT races at the Illinois State Fairgrounds! In the morning, there will be District 17 racing on the BEAUTIFUL TT course! Riders can register when the gates open, at 7:30 am. Practice begins at 9:00 am, with racing set to start at 10:00 am. Pit passes are $15, with post entry at $45. 
  Immediately following the District 17 races, Steve Nace and crew will be presenting an All Star race on the track. Gates open (and registration begins) at 2:00 pm, Practice begins (and registration ends) at 4:00 pm., Heats start at 5:30 pm, and races are set to begin at 7:30 pm. Fans can contact (888) 468-1622 for ticket information or purchases.
  On Sunday, it's time for the GNC Mile!
  Riders can register at 4:00 pm on Saturday, or head over early on Sunday (7:30 am). The Rider's Meeting will be held at 9:45 am, Practice starts at 10:15 am, Opening Ceremonies are at 1:00 pm, and Mains are set to start at 3:30 pm. 
  Added bonus? Dana Brown and his crew will be there, filming "On Any Sunday, The Next Chapter!"
  Springfield has LOTS of lodging options. We usually camp right there, at the Fairgrounds. Prices for tent camping may vary... check in at the camp office, for current rates... but I believe we paid $15 per night, last year. Obviously, RV parking and hook-up will run more. 
  Make sure you bring:
SUNSCREEN - It's amazing how those bleachers can attract the sun!
RAINGEAR- Even if it's just one of those plastic bag poncos, take rain covering. Springtime weather can be very unpredictable.
A SWEATER/JACKET/STADIUM BLANKET- No matter how warm the day is, the evenings often bring a chill.
CAMERA, BATTERIES, SOMETHING TO AUTOGRAPH, AND A SHARPIE- You never know WHO you'll run into. If you don't bring these, you are guaranteed to regret it.
SHOWER SHOES- If you are staying at the campground. They do have a couple of shower facilities, but you'll have to move fast, and those shower shoes (and a large towel or a robe) are handy for quick exiting-and-dressing.
  If you have time, check out some of the great (and free) area attractions: Lincoln's Tomb, the Korean War Museum, the Lincoln walking tour, and the Potowotami Trail of Death. Also of note... Jungle Jim's Cafe (1923 N Peoria Rd, Springfield, IL 62702) has the BEST breakfast, around... try the "Ponyshoe!" Swing by the Cozy Dog Drive In (2935 S. 6th St.,Springfield, IL)... home of the first corn dog... or design your own bowl of chili at Joe Rogers Chili 
(820 S 9th St, Springfield, IL 62703), for lunch. Boone's Saloon (mentioned, previously) is THE place for afterhours entertainment, as well as great food!
 So, there you have it... Springfield-in-one-post. Whether you choose to follow our tips or create your own adventure, Springfield will be an experience you'll never forget!